Adams Morey Bournemouth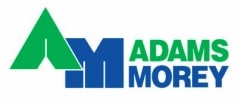 Background:
Established in 1973, Adams Morey holds a position as one of the leading independent commercial enterprises in the UK. With eight sites across Hampshire & Dorset Industrial Heaters have been carrying out installation, maintenance and breakdown cover since 1999.
One of our recent visits to the Bournemouth branch found that main components in the gas fired heaters had failed leaving the units beyond economical repair.
Typical of most commercial vehicle workshops, the large roller doors have to be kept open for most of the day. After discussions with both the manufacture Space-Ray, and with the client, we designed an energy efficient heating system bespoke to the building.
Solution:
Together with the manufacturer, 6 off Spaceray single linear radiant tubes were specified and installed by Industrial Heaters with each heater controlled by a Smartcom3 energy saving controller.
Result:
The heaters were installed alongside a Smartcom3 keypad operated controllers which enables the heaters to have optimum start and stop times, frost protection and pin facility to stop user error and reduce wasted running hours.
"Statement from Customer"