Case Study 1
Planned Heating and Air Conditioning Maintenance & Repairs
Paint Stores, Multiple Branch Customer
Using modern management software, annual maintenance work is automatically scheduled for 93 appliances spread over 50 branches in the South of England.
Prior to scheduled heating maintenance, both the Area Facilities Manager and the Branch Manager are consulted via email to plan a date to ensure that the scheduled time is convenient. Relevant risk assessments and method statements for the work are forwarded to the branch.
Once on site, the engineer completes a construction phase plan on their tablet and forwards a copy to the branch for their records.
On completion of the works, the updated service records and all other relevant paperwork are emailed to Head Office.
All of our engineers carry standard spares for the leading manufacturers, this reduces downtime in the event of attending a breakdown.
We can also provide a planned replacement schedule for appliances for budgeting purposes, thereby reducing the risk of failure and leaving a branch without heat. These dates are based on the projected life span of an appliance, taking into consideration the likely usage of the appliance and the environment in which it is installed.
Our engineers carry the following qualifications:
GAS SAFE Accreditation
OFTEC Accreditation
IOSH Accreditation
RBS Mentor Health & Safety Training
Manual Handling
Materials Hoist Training
IPAF Training
PASMA
Training
Ladder Association Training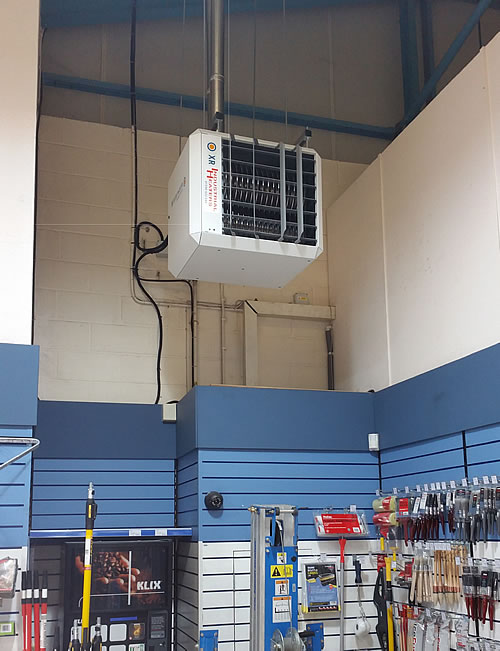 Installation & Replacement of Appliances
Industrial Heaters have installed over 50 new heating appliances into branches across the country. These installations included the following:
Replacement Shop Heating Appliances
Replacement Stores Heaters
Replacement Boilers
Installation of Wet Systems
Industrial Heaters (Southern) Limited are approved installers for all the leading warm air and radiant tube appliance manufacturers
Other services offered are the following:
• Air Conditioning – heating and cooling of offices and showrooms
• Destratification Fans – a cost effective way of reducing heating bills.
• Energy Management Control Systems – to reduce wasted running hours, when an area does not need to be heated.
• Fresh Air Return – the introduction of fresh air to stores to reduce the need to open doors/windows.
We aim to ensure this work is carried out quickly, efficiently and in a safe manner to ensure minimal disruption to the day to day running of the stores.
Site surveys carried out prior to an installation date assess the potential effects of closing the working area to customers and staff, and from a health and safety perspective to reduce risk to the general public.